Healthy Living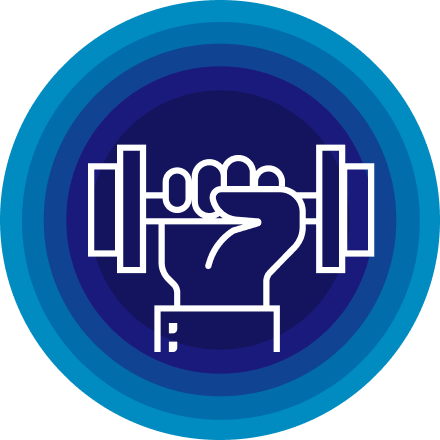 Healthy
Living
We want to give our employees easy access to health and wellbeing support, information and guidance. We offer a number of programmes to support the wellbeing of our employees and their families. It's really important to us that our employees are fit and healthy and can give our customers the best service. However, should they ever need any additional support, they know that we are there to help them.
Mental Health Hub
Employee Assistance Programme
Sleep Hubs
Cycle2Work
Onsite Medicals
Private Medical Insurance
Occupational Health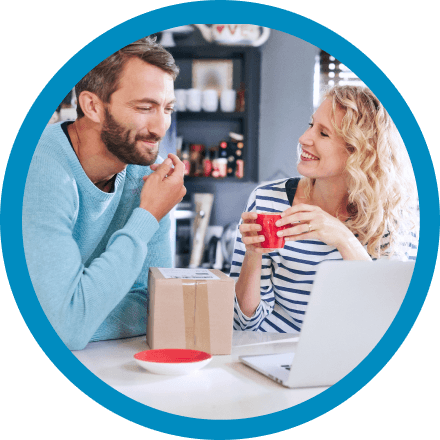 Healthy
Living
Mental
Health

Hub

We want all our people to have the support they need if at any point they find themselves in a difficult place. We want them to be able to reach out to any of our Mental Health First Aiders and get that help. The Mental Health Hub makes it easy for our people to find and contact a Mental Health First Aider that they can talk to. The First Aider will listen first and, if needed, introduce the person to specialist care and support.

Part of Team DPD and want to find out more? Click here and select the Mental Health Hub icon.
Healthy
Living
Employee
Assistance

Programme

Employees and their families have access to our employee assistance programme (EAP), which offers confidential support and advice 24 hours a day, 365 days a year. This covers support on personal issues, such as family, financial, legal, emotional, physical health and wellbeing issues.

Already work here and want to find out more? Click here.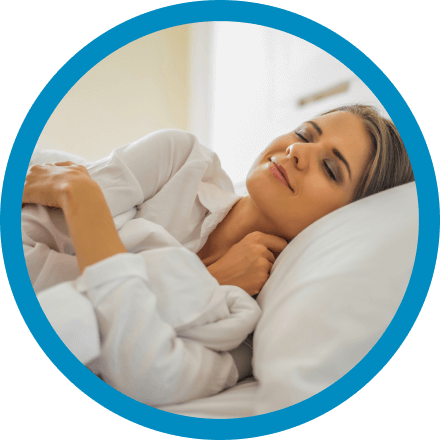 Healthy
Living
Sleep
Hubs
Sleep plays a vital role in good health and wellbeing throughout life. Getting enough quality sleep at the right times is one of the best ways to improve mental health, physical health and safety.
Employees can get access to a virtual sleep service provided by a renowned sleep specialist.
Employees who want to find out more: click here.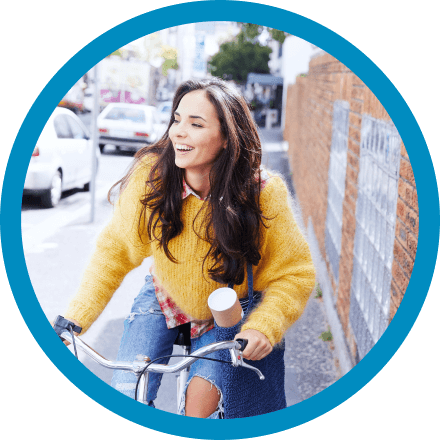 Healthy
Living
Cycle
2

Work

Our Cycle2Work benefit encourages our employees to make healthier and more environmentally friendly lifestyle choices for their journey to and from work. The scheme allows employees to spend up to £1,000 on a bike and accessories, tax free.

Employees: click here to find out more and apply.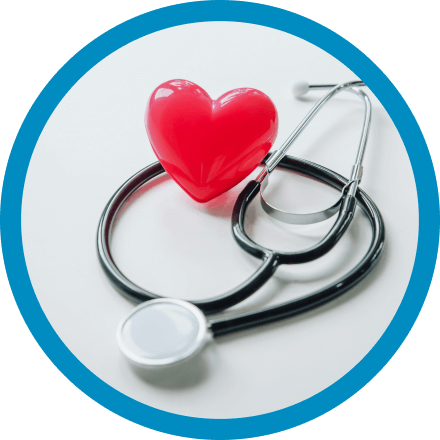 Healthy
Living
Onsite
Medicals
The first step to getting healthier is to understand how healthy you are now. To make it easier for our employees to do this, we encourage them to attend an onsite medical at one of our many DPD sites. The checks include their blood pressure, cholesterol, height, weight and BMI. They can also get support and guidance on how they can improve their health and wellbeing.
We also arrange onsite smoking cessation clinics, giving them access to support and free stop smoking aids through our NHS links.
Employees who want to find out more: click here.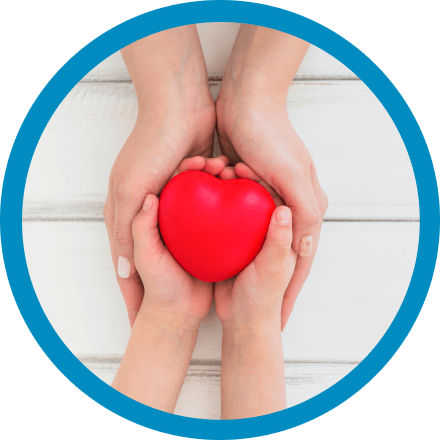 Healthy
Living
Private
Medical

Insurance

This benefit gives employees and their families easy access to private healthcare at corporate rates. Our private medical insurance also includes additional features to help encourage a healthy lifestyle - ranging from 'stop smoking' and Weight Watchers programmes to spa weekends and discounted membership.

Part of Team DPD and want to find our more? Click here.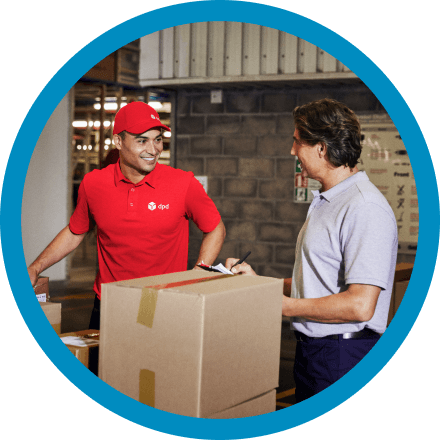 Healthy
Living
Occupational
Health
Our occupational health provider helps us support our employees' wellbeing. This includes employment health screening and support for employees who have ongoing health issues.
Rewarding You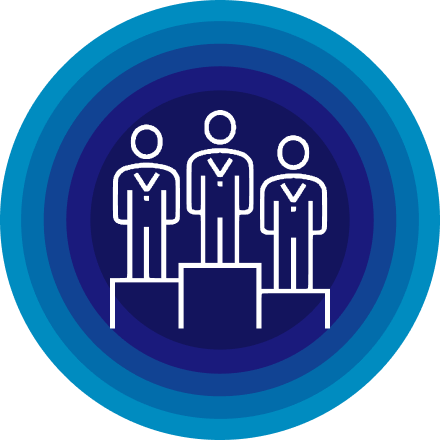 Rewarding
You
We all know how nice it feels to be recognised - it makes us feel valued and motivated to carry on doing a great job every day. Here at DPD, we recognise and reward our people who demonstrate our DNA. It's our way of letting them know that their hard work and effort is appreciated. On being recognised, they receive a DPD Reward Card. Their awards are uploaded to the card, and employees can spend them anywhere that accepts a Visa card.
Recommend a Friend
Social Fund
Amazing Awards
Star Awards
25+ VIP Club
Long Service
Personality of the Year
CEO Award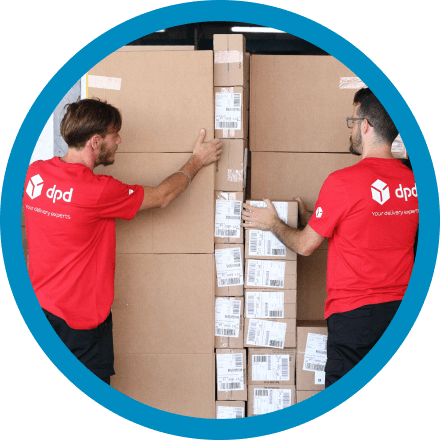 Rewarding
You
Recommend
a

Friend

We want the best people to come and work for us, and who better than our own people to recommend those who they know would be a perfect fit for a role at DPD. Those that successfully Recommend a Friend receive a financial award staged over a number of months.

Employed and want to claim your recommend a friend award? Click here and select the Rewarding You icon.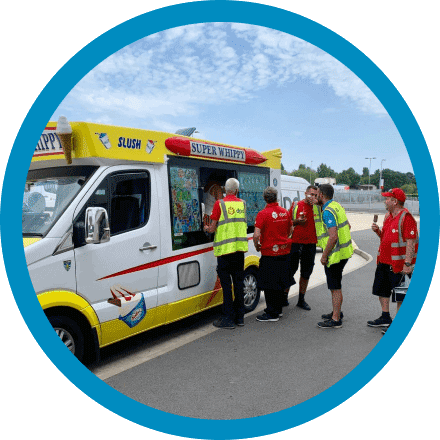 Rewarding
You
Social
Fund
At DPD we are a family, and this means that we like our people to be able to socialise as well as work together.
Every location and department has a social fund of £37.50 per person, and they can choose to spend it on whatever they want so that they can spend time with each other outside work and have some fun.
Then in the run up to Christmas, to support our people in the last big push of the year, the depots are given an additional £37.50 per person to spend.
Throughout the year there are opportunities to add to the social fund, from events such as service competitions in the depots to competitions to decide who has the funniest festive jumper at Christmas time!
Rewarding
You
Amazing
Awards
Here at DPD, we want to inspire our people to give amazing performance and that's why we instantly reward individuals for amazing achievements. DPD Amazing Awards are a special thank you for individuals who do amazing things. Recipients receive a financial reward, a handwritten card, a DPD Amazing mug and a personal appearance on the DPD website.
Click here to view all of our Amazing Award winners.
Already work here and want to find out more? Click here and select the Rewarding You icon.
Rewarding
You
Star
Awards
We want to celebrate the success of our teams and those individuals who go above and beyond to deliver outstanding results. We recognise with a range of financial rewards those of our people who demonstrate any one of our six core values.
Employed and want to find out more? Click here and select the Rewarding You icon.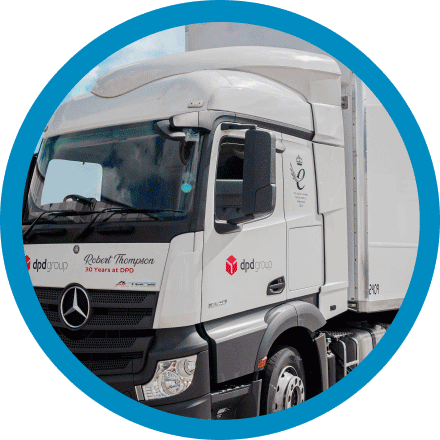 Rewarding
You
25+
VIP

Club

Celebrating through the decades.

Our 25+ VIP Club recognises our long serving employees who have reached this amazing milestone. Each year, our Senior Management Team gets together with these employees and their partners to celebrate this fabulous achievement. We want this milestone to be memorable, so we really do pull out all the stops with a champagne reception and a lavish lunch at a top Midlands venue.

And the celebration continues…

Each of our long servers will also have a DPD truck dedicated to them and named in their honour. The unveiling is captured in a presentation from their manager, and with a framed photo they can keep as a permanent reminder of their amazing achievement.

Since 2014, when we began the 25+VIP Club, 2,640 people have had their loyalty recognised, representing more than 41,000 years' service.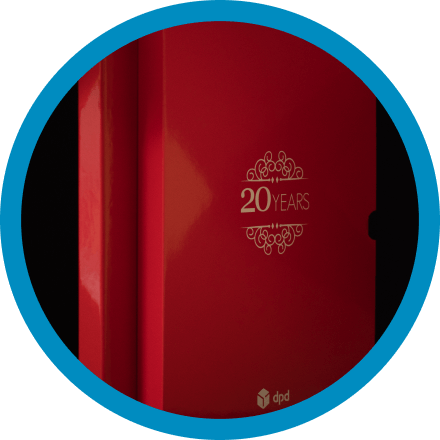 Rewarding
You
Long
Service
You don't have to wait for 25 years to have your long service recognized. We celebrate 10 years of service and every five year milestone thereafter by presenting employees with a commemorative box. The box includes a long service pin, a framed certificate personally signed by our CEO, and a cash award which is loaded onto the DPD Reward Card. Employees celebrate their long service with their colleagues at a local event or a meal out with their family paid for by the company.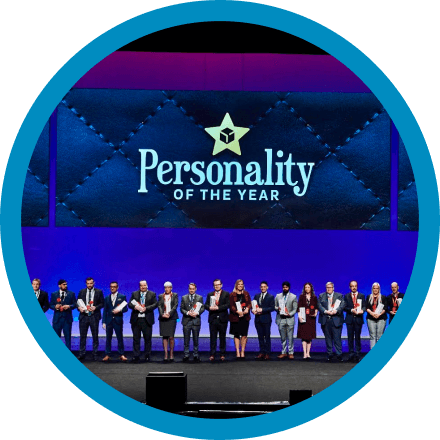 Rewarding
You
Personality
of


the

Year

DPD's Personality of the Year launched in 2019 and it has been a huge success, with winners attending the DPDgroup UK Conference and an amazing weekend with their partner in London, staying at the Four Seasons hotel.

Personality of the Year winners are people who are consistently amazing, always go above and beyond and who embodies the true spirit of DPD.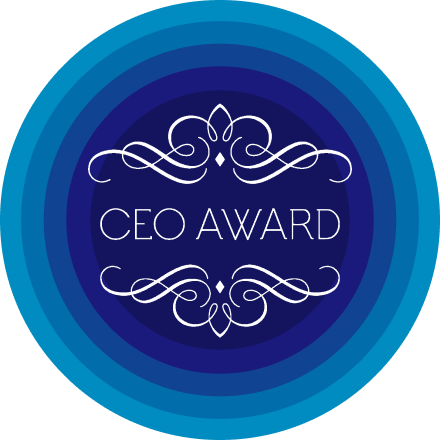 Rewarding
You
CEO
Award
The CEO Award is a special recognition by our CEO of individuals who have gone that extra mile and delivered over and above expectations. We celebrate this prestigious recognition by awarding them financially and presenting them with a handwritten card and certificate to display in their location.
Part of Team DPD and want to find out more? Click here and select the Rewarding You icon.
Our Community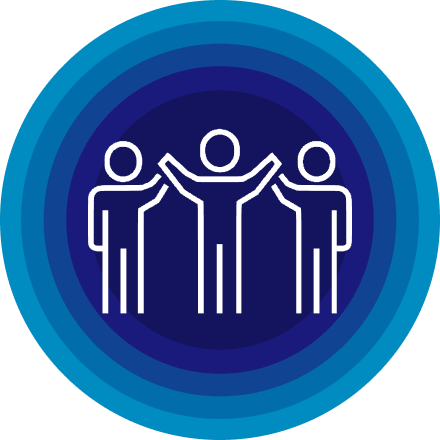 Our
Community
It is important to us to get involved with local organisations, good causes and charities. We want to encourage our people to build relationships and connections within their community. We do this a number of different ways, such as through charity donations, supporting employee community days and business partnerships.
Community Fund
Star for a Day
Work Experience
Family Days
Community Days
Inclusion & Diversity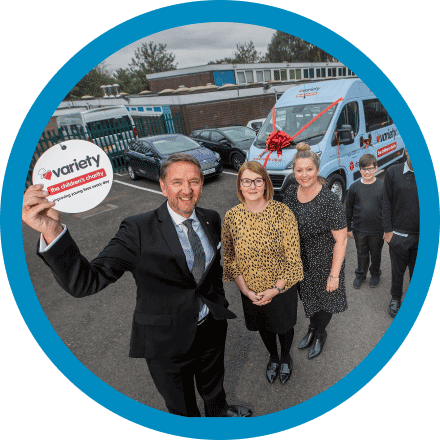 Our
Community
Community
Fund
The Delivering People's Dreams Community Fund is our way of giving something back. At DPD we are always keen to get behind good causes and local charities and charity work that has been done by our employees has gone from strength to strength.
We want to support charities that are close to our employees' hearts, so we ask employees to nominate their charities, which are reviewed once a month by the Community Fund Committee. In 2019, we matched our employee fundraising and donated £194,000 to local charities and good causes nominated by employees and ODFs.
Our charity work does not stop there. We also support two national charities, Children with Cancer UK and Variety, the Children's Charity. In October 2019, we donated three coaches to Variety.
For more details please contact us here.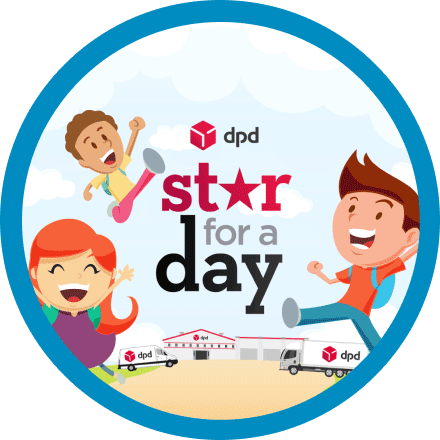 Our
Community
Star
for

a

Day

Star for a Day is an amazing event where our employees' children are invited into the depot to give them an insight into what their family members do when they work for DPD.

The children are given a number of tasks to complete around the depot while learning all about the parcel lifecycle. They are able to scan a parcel, create a label, as well as watch a forklift truck demo, and then they get the chance to sit in a Linehaul cab and have their photo taken. They are then given a goody bag to take away as a special memento of their day.

Employees can log in and discover our Star for a Day video by clicking here.

For more details please contact us here.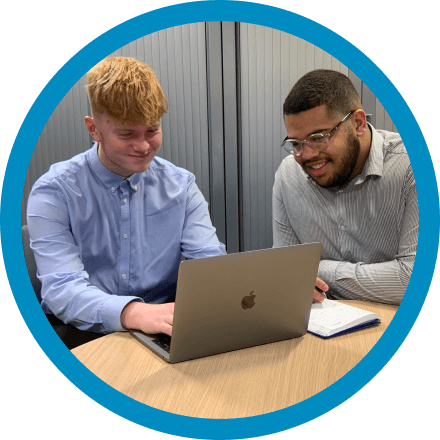 Our
Community
Work
Experience
Our programme is extremely popular with students and schools. We provide engaging and structured work experience opportunities to schools in the Birmingham area and to the children of employees across all our sites.
Students spend a week with us to gain the experience of being at work and also a better understanding of who we are, what we do, and what type of career they can have in our industry.
Want to find out more about our work experience programme? Click here.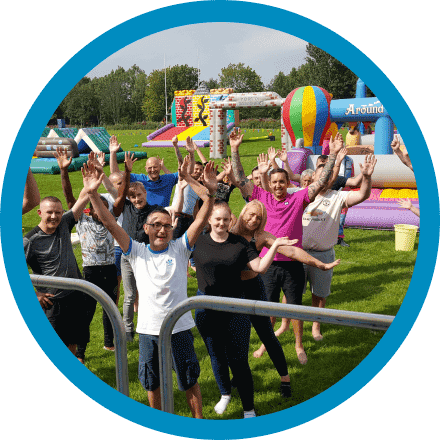 Our
Community
Family
Days
At DPD we are a community, and this includes our employees' partners, children and anybody else they consider to be part of their family. We are always keen to open our doors and invite family and friends to visit our hubs and depots to see the amazing work that our teams do every day.
Our incredible employees know how to organise great events to bring our people and their families together to have fun. This can be anything from inflatable obstacle courses to school sports day events.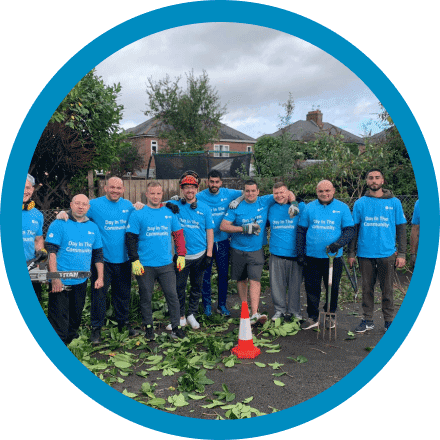 Our
Community
Community
Days
At DPD we are committed to playing our part as responsible members of our communities by actively getting involved and sharing our expertise, skills and resources, and creating partnerships that have a positive impact on our wider communities.
We encourage our employees to engage as volunteers in all kinds of social, environmental and worthwhile causes in the communities in which they live and work.
By actively supporting the community and continuing to be a socially responsible organisation, we believe that this will bring real benefits to our employees and communities.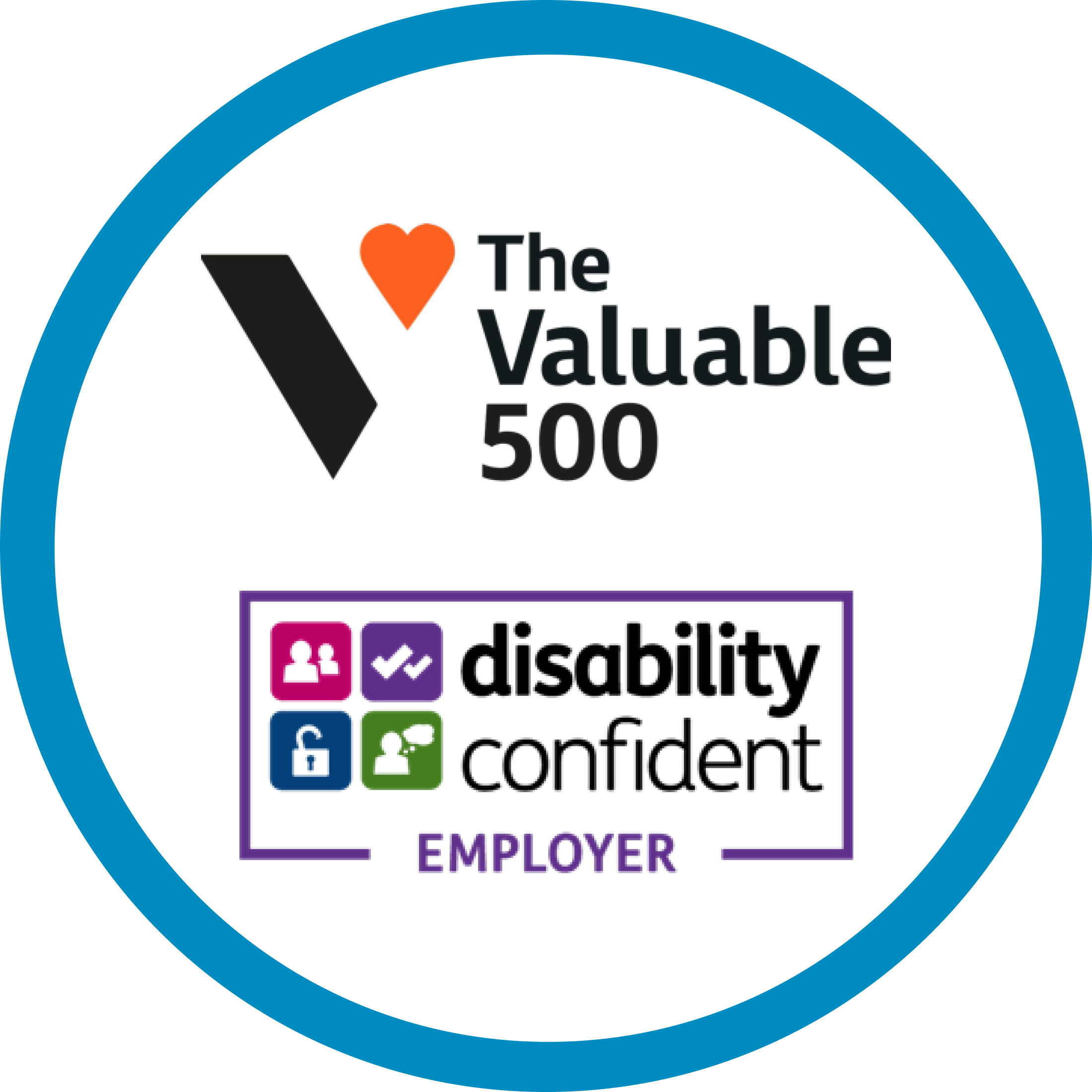 Our
Community
Inclusion
&

Diversity

DPD is a Valuable 500 company and a Disability Confident Employer.

We are proud to have taken our diversity and inclusion agenda to the next level by being a part of these fantastic movements alongside some of the world's most influential businesses.

The Valuable 500 is a global movement putting disability on the business agenda. They're calling for 500 companies to unlock the potential of the 1.3 billion people living with disabilities around the world.

"Inclusion for all is part of our culture and we are fully committed to including everyone at DPD. We are delighted to now join other organisations who are also committing to those same values as part of The Valuable 500 initiative."
The DPD Way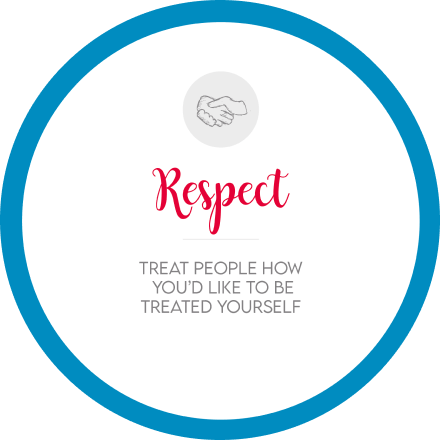 The
DPD

Way
DPD
Way
The DPD Way is just that, it's how we do things. This is underpinned by our six core values, which we call our DNA. Together we ensure that these values are demonstrated in everything we do, every day.
Our bespoke management development programmes are designed with this in mind and deliver a range of modules which support the development of our future leaders.
Employees who want to find out more, click here.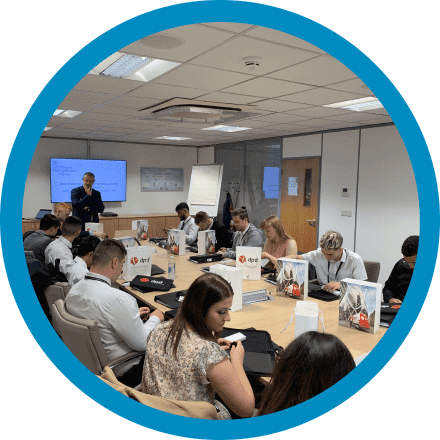 The
DPD

Way
Apprentices
Our Apprenticeship programme enables us to bring in young talent who are in the early stages of their working life. It's not all about academic results, it's about having the right attitude and being prepared to work hard.
Applicants are put through an extensive selection process, which starts with initial interviews, followed by an assessment day and ends with an interview with members of the Senior Management Team. Not only do we support our apprentices through their apprenticeship programme, we develop them into our future leaders and guarantee a job at the end of it for those who pass and demonstrate our DNA.
Opportunities are available in a range of departments including Engineering, Marketing, Finance, Sales and IT and vary from Level 3 - Degree Level. We start the recruitment process each year in April, with all new Apprentices joining us in September.
Employees can log in and see our Apprentice video by clicking here.
If you would like to find out more, or apply: click here.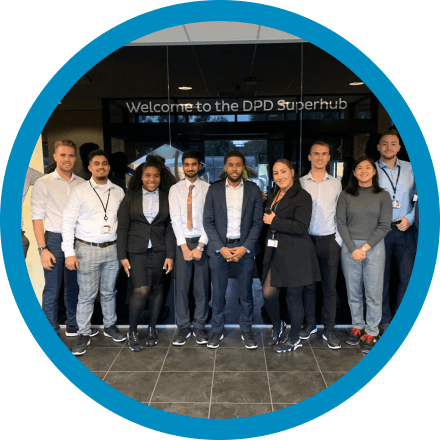 The
DPD

Way
Graduates
We offer graduates a unique opportunity to fast-track their career in our ever-expanding network of depots.
To be part of our Graduate Programme you will need to be amazing every day and aim to provide the best possible service and customer experience.
We offer significant career and personal development opportunities, supported by structured training. Starting with our excellent induction programme through to a personalised development plan, we will give you the chance to continually develop yourself and realise your potential.
Interested? Find out more here.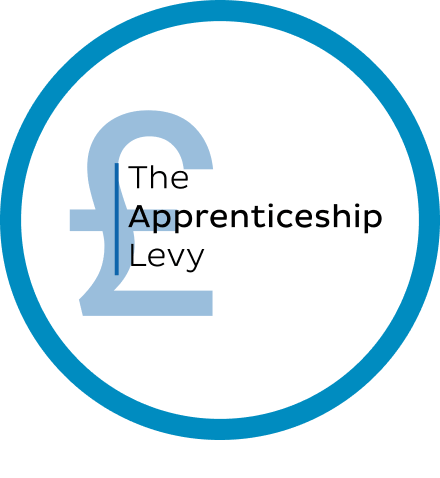 The
DPD

Way
Apprenticeship
Levy
The Apprenticeship Levy provides an additional source of funding that can be used to train newly recruited apprentices or to develop existing employees.
There are a wide range of professional qualifications available. The choice of courses ranges from a Level 2 qualification (GCSE equivalent) up to Level 7 (Masters Degree).
Opportunities and support are available for employees who want to pursue formal qualifications through this route.
Employed and want to discuss this further? Click here.
DPD recognises the value of Apprenticeship qualifications which is why we pledge 25% of our Levy Funds each year to other businesses. We are proud to support other businesses, such as The West Midlands Police, and a variety of sectors including Health & Social Care and Engineering, to see the benefits of Apprenticeships.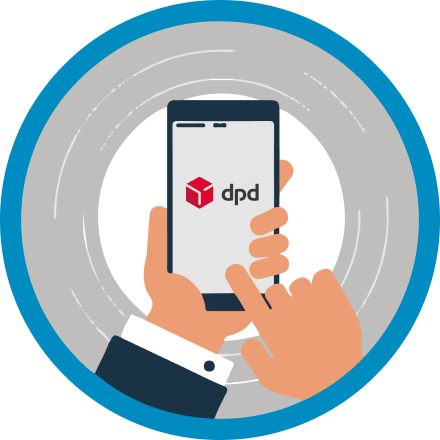 The
DPD

Way
Digital
Learning
The way people like to learn is changing, which is why we recognise that we need to provide different ways for our employees to access learning and development. As well as traditional face to face development sessions we are also investing in digital learning.
By using e-learning modules, gamification, quizzes, video and other digital methods, we are able to ensure our employees have access to learning and development on any platform, at any time when they want it.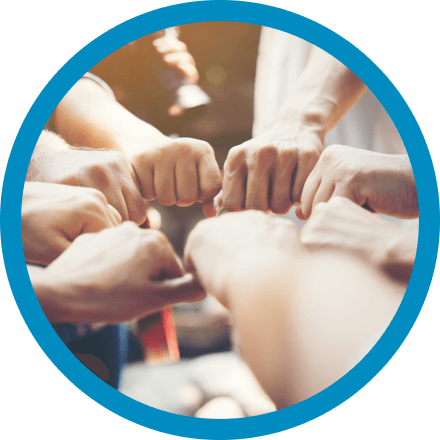 The
DPD

Way
Supported
Employment
DPD's Inclusion Strategy includes working with schools, colleges, charities and organisations to offer employment opportunities to those who are disabled, particularly those with learning disabilities and special educational needs, through its 'DPD Inspire' programme.
This is achieved through Work Experience, Supported Internship and Inclusive Apprenticeships. DPD is a Disability Confident Employer and is actively looking to create further opportunities ensuring every area of the business is included in this part of our inclusion strategy.
At DPD we also advertise all our roles on Evenbreak, the specialist job board for disabled candidates. If you have a disability or a long-term condition (including hidden conditions such as mental health, autism, dyslexia, etc) that would need an adjustment; either in the application process, the interview process, the onboarding process or day to day, visit the Career Hive where Evenbreak provide help and advice to disabled candidates who may be interested in our vacancies.
Find out more at https://hive.evenbreak.co.uk .
Listening to You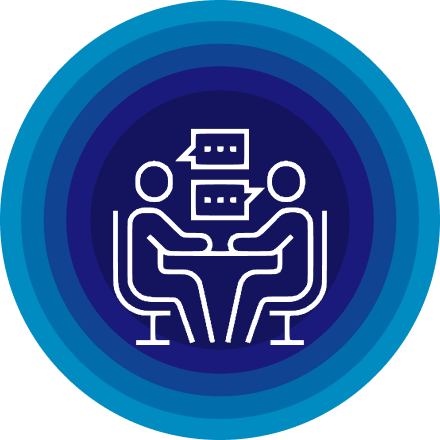 Listening
to

You

Having people working in a company that has over 80 locations and 22,000 people working different shifts and days means we have to work extra hard on how we communicate. We also need to make sure that everyone has the opportunity to have their voice heard.
This Is Us
New Starter Feedback
Service Champions
Listening Post
DPD Buzz Day
DPD Conference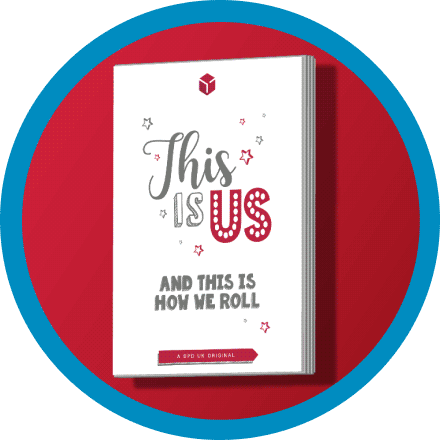 Listening
to

You
This
Is

Us

All our new starters are given their own copy of our This is Us book during the recruitment process.

Five times a year, we hold our This Is Us event so that new monthly paid employees can get a complete overview and understanding of what it is like to work for DPD and what to expect when they join the 'winning team'.

The event gives our Senior Management Team an opportunity to talk to new employees about life at DPD and gives employees the chance to ask them any questions.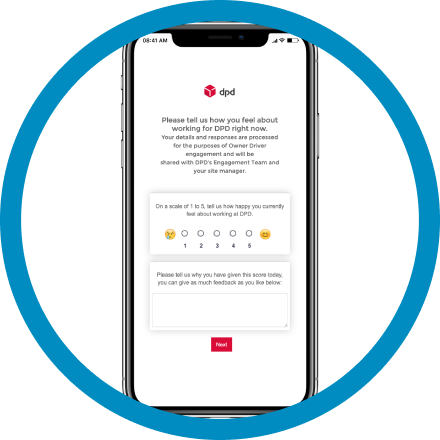 Listening
to

You
New
Starter

Feedback

Our New Starter survey checks how people new to DPD are getting on, by asking them to tell us how they feel, and what they like and don't like about working for DPD. We do this at regular stages throughout their first six months.

The programme is designed to settle people into their first few months and give them the opportunity to raise any issues they have.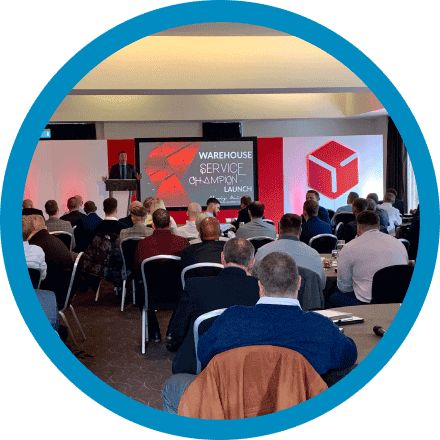 Listening
to

You
Service
Champions
DPD's Service Champions are the go-to people when you want to know what's happening in your business area.
They have either volunteered or been selected because they are people who genuinely want to move things forward and help create a better working environment for all.
Each year we bring all our service champions together to update them on our plans for the future.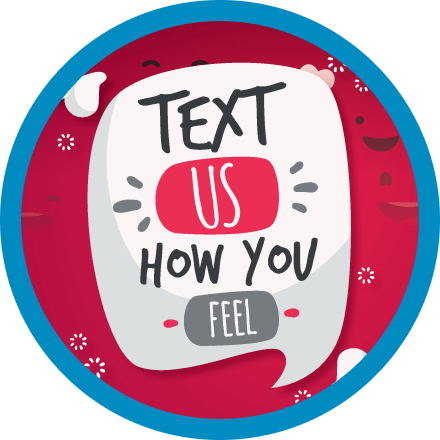 Listening
to

You
Listening
Post
At DPD we are always keen to hear how our people are feeling, whether that is good or bad. That's why we introduced Listening Post, so they can text us any time to tell us exactly how things are going.
Do you have a question about Listening Post? Click here to find out more.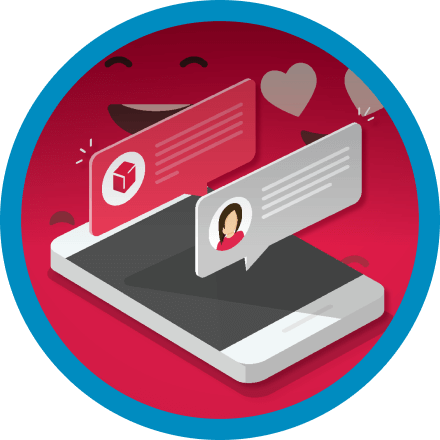 Listening
to

You
DPD
Buzz

Day

Another way we get to know how our people feel about working here is through our DPD Buzz Day.

We ask everyone to take part and rate how they feel about working at DPD and tell us why.

The results help us understand what we do well and not so well and help us to share our future engagement initiatives.

Our first DPD Buzz Day was held in January 2020, with more than 12,500 people contacted. We received more than 5,500 responses, with our people rating us a really positive 3.7 out of 5.

We will be holding our second Buzz Day in September 2020. We look forward to hearing from our employees and improving our score.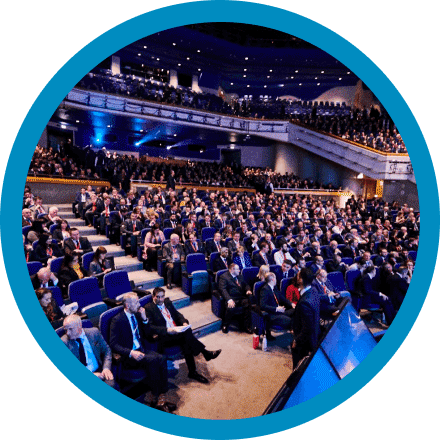 Listening
to

You
DPD
Conference
The DPD annual Conference is held at the beginning of each year, with over 1,100 people from all over the company attending.
This is both a celebration of the previous year and a showcase for what's coming next for DPD.
It's also a great fundraising opportunity to support our sponsored charities.
Perks of the Job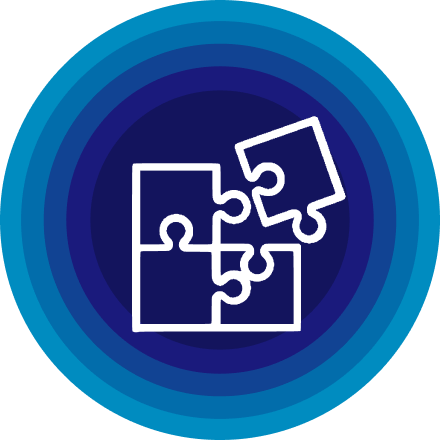 Perks
of

the

Job

There are a number of reasons to choose one job offer over another, and sometimes it's the simplest things that our employees want the most. We offer free car parking on most of our sites to all employees, free uniforms if the role requires, and canteen facilities.
Holiday Entitlement
Season Ticket Loans
MyShopping
Benefits Fair
Eye Test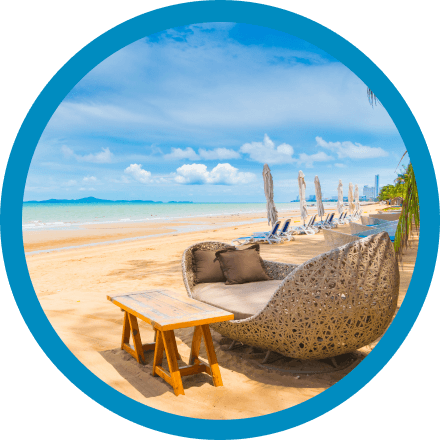 Perks
of

the

Job
Holiday
Entitlement
In addition to public holidays, we offer competitive holidays for our employees. Starting at 23 days per year on joining, rising to 24 days at three years' service, and increasing to 25 days on achieving five years' service and 27 days at 10 years' service.
Part of Team DPD and want to find out more? Click here .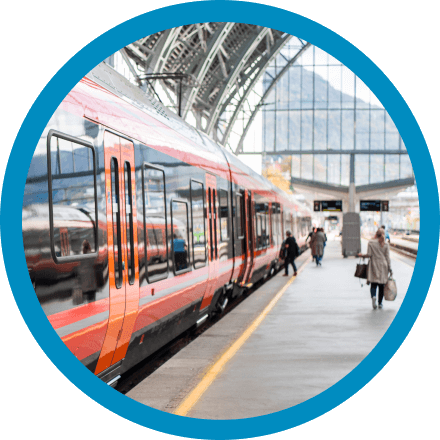 Perks
of

the

Job
Season
Ticket

Loans

Our bus and train season ticket scheme allows employees to have an interest-free loan to fund the cost of a public transport annual season ticket which is then repaid to the company over the lifetime of the season ticket.

Current employee and want to find out more? Click here .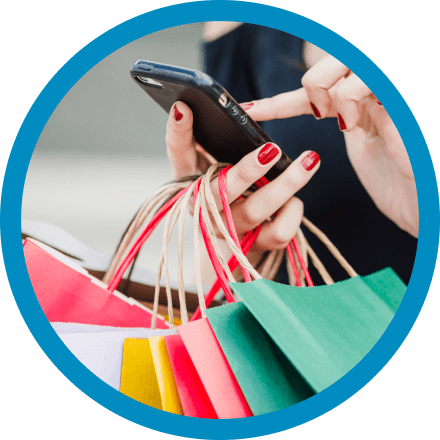 Perks
of

the

Job
My
Shopping
MyShopping offers employees and their families a quick and simple way to save hundreds of pounds on all their shopping needs. This includes discounts and offers on just about anything – such as food, holidays, electrical goods, DIY and days out. The discounts are available 365 days a year from over 900 well known retailers and come in various forms such as instant e-vouchers, cashback, online voucher codes and re-loadable gift cards.
Part of Team DPD and want to find out more? Click here and select the MyShopping icon.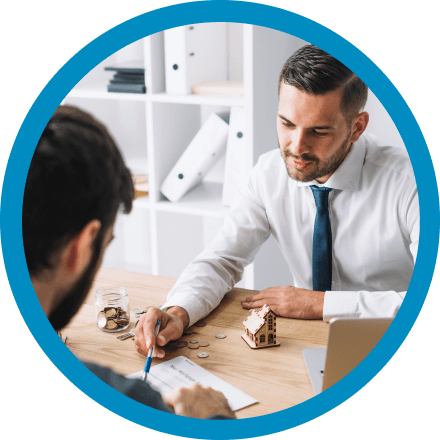 Perks
of

the

Job
Benefits
Fair
Every year we organise a benefits fair at our Hub sites. Prior to the launch of the new benefits year, we host a number of events to introduce employees to all our benefit providers and give them the opportunity to understand and find out more about the benefits we offer. To encourage employees to attend we also hold competitions, spot prizes and onsite medicals.
Our Benefits team make regular visits to our other sites to promote and offer guidance on all benefits.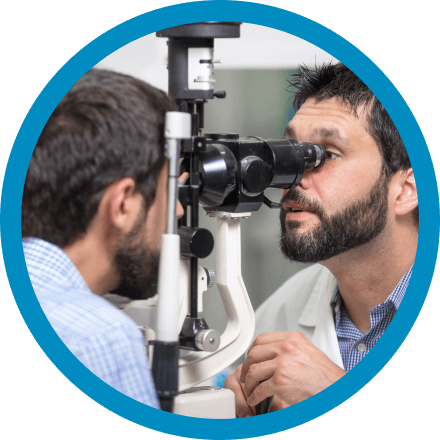 Perks
of

the

Job
Eye
test
If employees spend a lot of time working on screens, we will pay for them to have an eye test every two years. If glasses or lenses are needed, employees can claim towards the cost of these.
Currently part of Team DPD? Click here to find out more.
DPD Media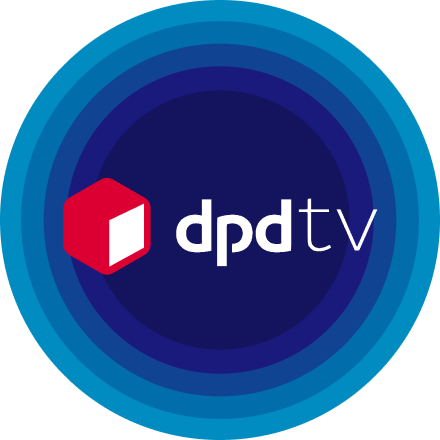 DPD
Media
DPD
TV
DPD TV is our multi-video-channel screening all of our latest videos about the exciting things happening at DPD. There's always something new to discover, whether this is an insight into the This is Us event, a new product or service, a tour of a new depot we are opening or meeting our new apprentices.
Employees can log in and discover what's new by clicking here .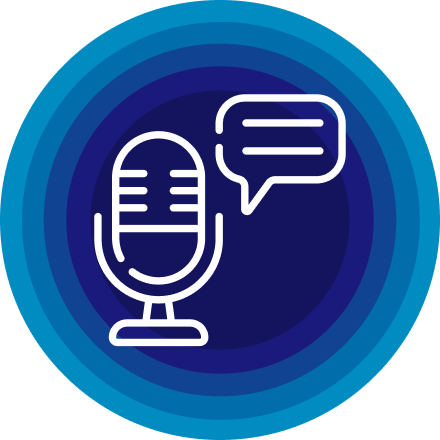 DPD
Media
DPD
Podcasts
DPD Podcasts is our audio channel providing the latest updates to all our teams. Employees can hear from our CEO, senior directors and managers about what's new for their team. The super-popular 'Ask the CEO' feature has received more than 4,000 questions from across the business.
Employees can log in and discover what's new by clicking here .